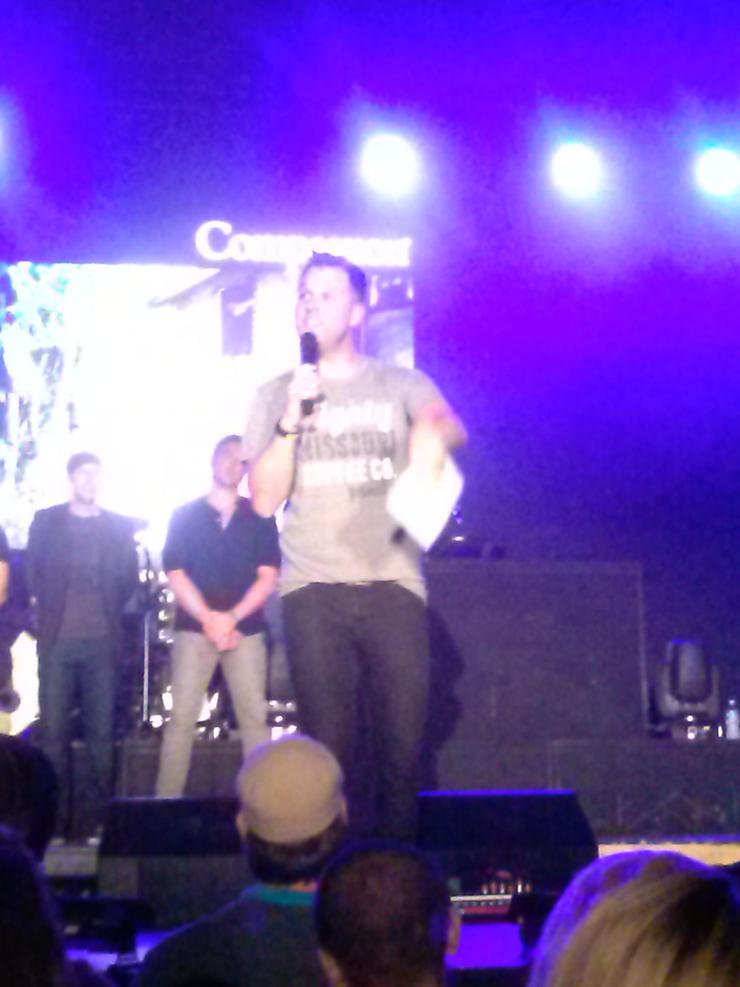 (This was originally published on mightymocoffee.com's Runaway Blog October 14, 2013)
(Above: Matthew West sporting the new Mighty Missouri Coffee tee shirt in front of a sold-out crowd at Shiloh Christian School!)
The countdown has begun! I couldn't be more excited to announce the arrival of Mighty Missouri Coffee to a retailer near you. It has been an almost year-long adventure so far, and it is an amazing relief to finally see the product made available to you. I've said before that if I could have written the Mighty Mo story in a book, we would have been in production a year ago. But that's not how adventure goes. Adventure is unknown, it's sometimes heartbreaking, but it always has a clear goal. Perhaps it's appropriate that the company mantra, "Another Day Another Adventure" is stamped across the side of every bag.
When we sampled the coffee, we always profiled the coffee against a variety of important questions, rated on smoothness, good flavor, the weight of the coffee on the tongue, and others, but we also rated the coffee on emotion. We are convinced we have a coffee that complements the rugged outdoorsy life of the North Dakota plains. We can't wait for Mighty Mo Coffee to be a part of your adventure. 
In the coming days, we'd really appreciate it if you checked back often to the website; we'll finally have the "Mighty Mo Coffee is Coming Soon..." text removed, and in its place an opportunity to order artisan roasted, 100% Arabica bean coffee from The Mighty Series, Mighty Mo Coffee Co's first coffees ever made available. 
We also have vendors lined up in the region, but we really want to make an extra push for Mighty Missouri in the Bismarck/Mandan area. Here's where you can really help: Next time you go grocery shopping, ask if they could carry Mighty Missouri Coffee. Let them know you want it on their Facebook page, through email, phone call... whatever avenue you're most comfortable with! If you're reading this post, we're already greatly indebted to you for coming on this journey with us... and your continued support for Mighty Mo Coffee makes us out-of-this-world thankful. 
Can't wait for what the future brings!